The Arts for Children
A benefit for the Foundation for the Children of Iran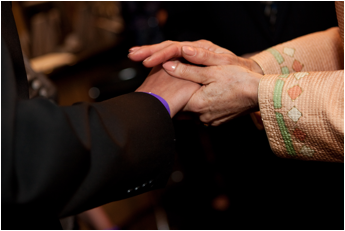 Shahbanou warmly holds the hand of FCI's latest patient...
On a brilliant starry night, on April 22nd 2010, in Los Angeles – the city of angels – the patron angel of the Foundation for the Children of Iran, Her Imperial Majesty Shahbanou Farah and founder of FCI, HIH Princess Yasmine Pahlavi arrived to the delight and applause of gathered guests at the home of Mr. and Mrs. Jahanban Malakzad.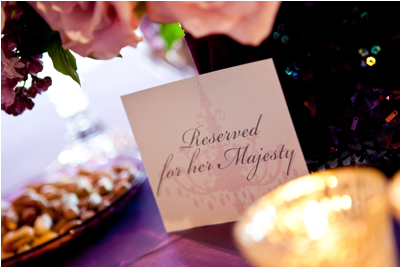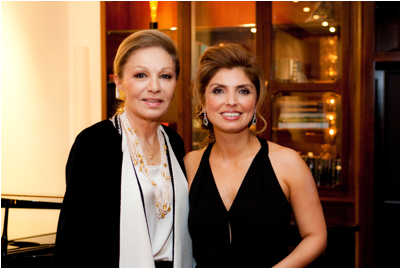 Her Majesty and Her Highness Princess Yasmine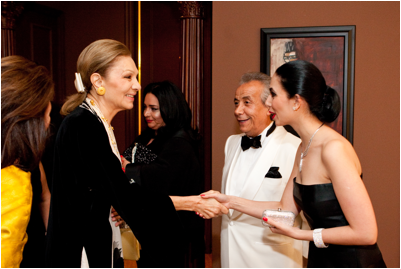 Legendary designer Bijan and his beautiful companion Mahtab Mojab are the first to greet Her Majesty upon arrival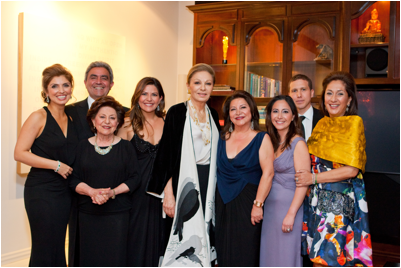 The evening's hosts: the Malakzad family

The gathered guests included world-renowned designer and philanthropist Bijan with his longtime stunning companion, Mahtab Mojab. Bijan has been a staunch supporter of the Foundation since 1995. Also present was legendary Iranian maestro, Sattar, and his charming wife Mahnaz, making a rare public appearance. The voice of Sattar has been the voice of celebration of the Foundation since the inception of the organization in 1991. In fact, Sattar has traveled to Minnesota and visited many Foundation patients in the hospital as they recovered, much to their delight.
The other dignitaries present, too numerous to name, included prominent Iranians and Iranian-Americans from a broad spectrum of society – artists, doctors, bankers, performers, entrepreneurs, each and every one "representing the best of us…reaching out to help the neediest of us."
The guests were thrilled for the opportunity to be presented to Her Majesty and Princess Yasmine, founder of FCI. There were tears and smiles as tales were shared and memories recalled, and hopes and prayers for the future were joyfully voiced.
The Mistress of Ceremonies for the evening, the always delightful Ms. Shahrzad Ardalan, welcomed guests as they arrived to be seated for dinner into a beautifully draped and decorated silk tent. Ms. Ardalan eloquently described the mission and vision of FCI: to provide healthcare services to critically ill Iranian children with complex condition which cannot be treated in Iran, regardless of race, religion, ethnicity, sex or political persuasion.
What followed was a spectacular evening of remarkable and unique performances by:
String Theory – described as "combining the refined elegance of classical music, the clear mood of modern ambient, and the raw energy of rock and roll into a performance experience that is as inspiring as it is unique"
Banafsheh Sayyad, defined by the Los Angeles Times, as "part whirling dervish, part flamenco femme fatale"
Dorsa Jarah, virtuoso violinist with the LA Philharmonic, and of course
Sattar, internationally acclaimed artist and vocalist, who sang to the hearts and souls of admiring guests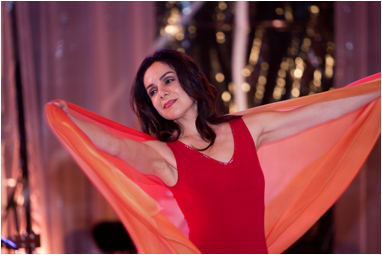 Banafsheh Sayyad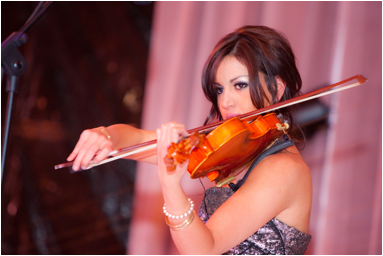 Dorsa Jarah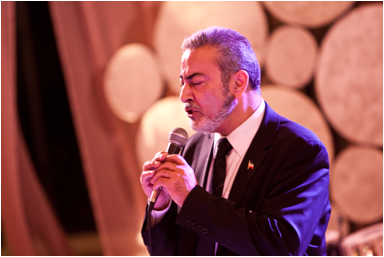 Sattar! A favorite of Her Majesty and FCI!
A wonderful "live auction" followed. Amongst the items auctioned was a clock with the King's crown donated by Princess Yasmine, which sold for over $7,000. The first of two spectacular items of the evening was a dress worn by Her Majesty, designed for her by Azzaro, for the wedding of Crown Prince Pavlos of Greece and Marie Chantel Wilson. This item was purchased by Mr. Bijan Pakzad for $55,000!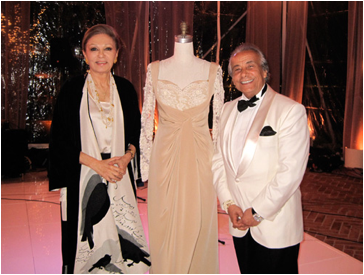 Also noteworthy, both emotionally for the guests and financially for the children of Iran: Her Majesty Shahbanou Farah donated a handkerchief belonging to the late Padeshah with the King's crown embroidered on it. This item raised $20,000 to be used to help save the children of Iran.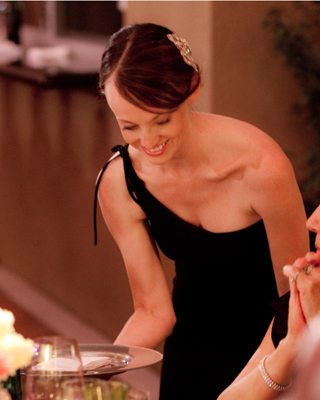 The late Padeshah's monogrammed handkerchief is presented for viewing
The evening included emotional and heartfelt toasts. Princess Yasmine offered one such toast to the organizer of the event and FCI board member Nooshin Malakzad, her husband Jahanban and her 2 beautiful daughters Newsha and Narda for the tireless efforts on behalf of FCI and for the amazing evening.
In turn Mrs. Malakzad asked the gathered guests to salute Princess Yasmine and her now 19-year endeavor on behalf of Iran's beloved children.
The short speeches concluded with Ms. Nazie Eftekhari, co-founder of the Foundation for the Children of Iran, offering salutations to Her Majesty Shahbanou Farah. In her comments of appreciation regarding the Empress Ms. Eftekhari said:
Your Majesty…
Your Highness…
Distinguished guests and friends of Bonayade Kodakane Iran…
It is my distinct pleasure and high honor to offer a toast this evening for our very special guest---the incomparable Empress of Iranzamin, Shahbanou Farah.
Your Majesty, FCI, its founders and the children we serve have been the beneficiaries of your largesse, both financially and far more important, spiritually, since 1991.
Like the nation that adored you then and continues to love and respect you today, we consider ourselves most fortunate for the blessed day you left life as a student of architecture and stepped in to the history books as our beloved Queen.
Over the years, your vision – be it in the area of contemporary art, where you are truly considered the Queen of Arts by many far more learned than me, with the legacy collection you accumulated at Tehran MoMa; or your impact as the most effective advocate for women's and children's health – including Hemayat madaran va kodakan, where our Crown Prince was born, making history as the first Royal born in a public hospital; or your influence on social mores and norms – your touching embrace of the "least of our society" when you warmly held people afflicted with leprosy. To these long and harsh years of exile – which has made some of us bitter, others angry, and yet others hopeless with despair – you have always maintained your grace, held your head held up high---represented the nation in a manner that has made us all proud--- never bitter, always forgiving and always loving towards the people who are left behind in our beloved homeland----a love I can attest is reciprocated whole heartedly.
On a personal note, I don't think you have ever looked as majestic as you did that hot July day, 30 years ago, when, with your son, your back ram rod straight-your head held up high-without regard to the threats of assassination---you led mourners down the streets of Cairo behind the flag draped casket of our Padeshah.
Your entire life has been an inspiration Your Majesty-- It is impossible to express what you have meant to FCI, just as it impossible to express what you have meant to all of us through good times and bad----But I suspect many here tonight feel what I am incapable of expressing---
You may not have been born a Queen----but surely you were born with noble blood running through your veins, for your life story inspires all to do better in the service of our country.
Ladies and and gentlemen-
The toast is to the Queen of Arts----
The Queen of Hearts---
Our Golbanou---our Shahbanou
The Empress of Iran
Click here to hear Ms. Eftekhari's speech accompanied by photos from the event.
Finally, the evening concluded with Shahbanou Farah thanking the guests, the hosts, the performers, and all involved for their care and love for the children of Iran. She said in closing: "Tonight you made me feel as if I was back home in our dear Iran."
Please click here for a "home video" of Her Majesty's comments
Please click here for more information on the Foundation for the Children of Iran
---
Saturday April 24, 2010, Los Angeles – Her Imperial Majesty Shahbanou Farah and Her Imperial Highness Princess Yasmine Pahlavi arrive for the second of two events scheduled by the Foundation for the Children of Iran board member Nooshin Malakzad.
The Malakzad family and 250-plus distinguished Iranians and Iranian-Americans are on hand to support the Foundation. As usual, Shahbanou Farah and Princess Yasmine are met with love and respect by a community in so-called "Tehrangeles" which has been waiting for a long time to visit with them in person.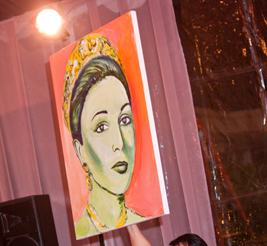 A portrait of Her Majesty painted on-site during the event
by Iranian artist Davood Roostaei was purchased for a hearty $30,000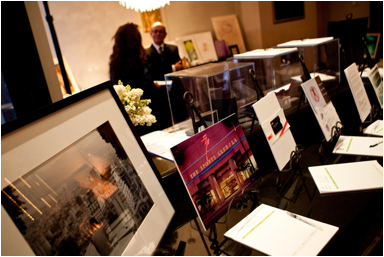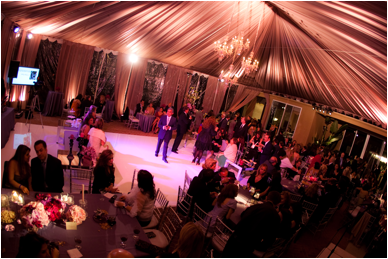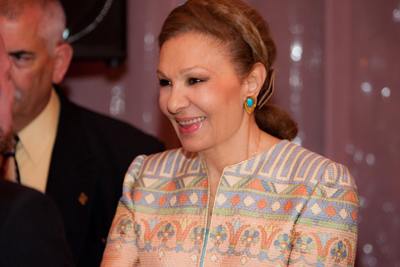 A beautiful evening of celebration ensues. The mission, goal and purpose of the Foundation is presented through a video…the story of one child, treated by the Foundation for heart disease: The Story of Ali. Click here to view the video.
The moving video is followed by comments by Princess Yasmine, founder of FCI. In introducing Princess Yasmine, Ms. Eftekhari noted the Princess joined the cause when she was barely 20 years old. Throughout her purposeful life, Princess Yasmine has devoted herself to the cause of children both as an attorney in Washington DC – representing at-risk children – and as founder, director and volunteer with FCI. Please click here to see the video of HIH Princess Yasmine's speech.
The commitment to the cause of a better future for the children of Iran, championed by Princess Yasmine and supported whole heartedly by Shahbanou Farah has inspired many to help. And by helping not only allow a child the opportunity for a better future, but give a family the hope for a better tomorrow.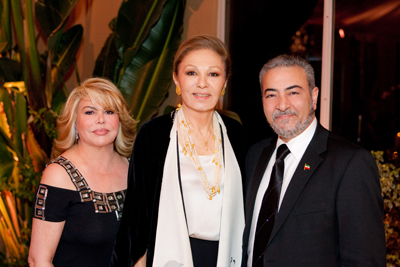 Her Majesty, Sattar and Mrs. Mahnaz Sattarpour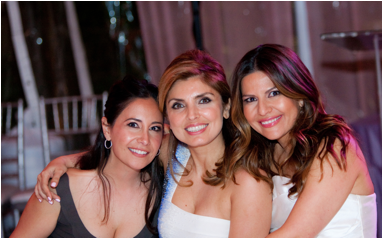 Princess Yasmine with Narda and Newsha Malakzad
Reported by MNE/May 2010
---